Today, Galia, the guide to the Arcana Mysteries class I'm taking, sent the assignment for the last major arcana card of the deck, The World. Wow! I got started this morning, and it's still in that messy inbetween stage, but it made me realize I've been slow to show you my art journal spreads from class! So here is the next one, the High Priestess. Here is a bit of my thought process behind it: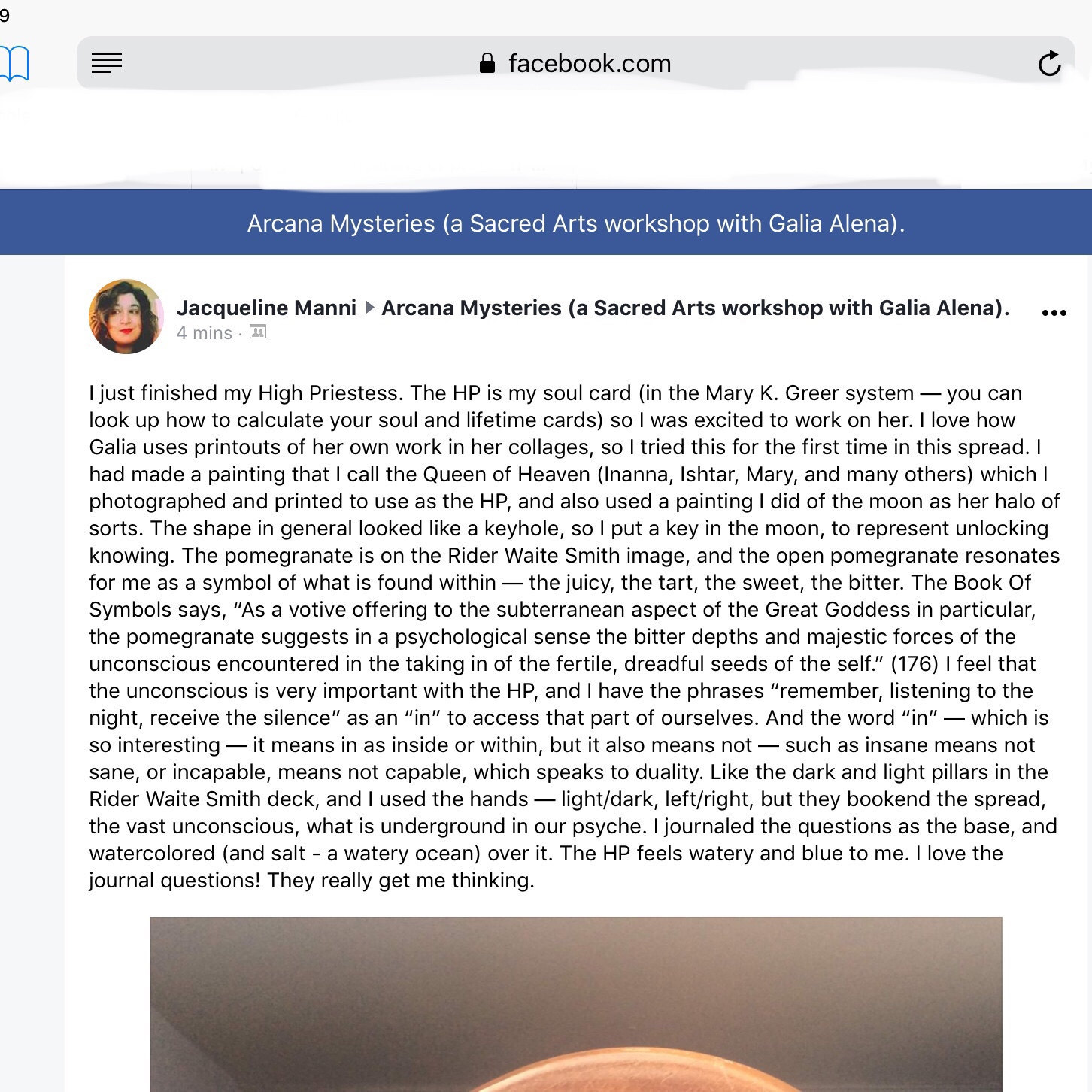 Back in the beginning of the group I was on Facebook. I had quit Facebook some time after this post, over the summer. Instagram, too. I had noticed an interesting thing about sharing art in groups. I was often so excited about sharing that I would post things before they were cooked all the way, thereby considering them "finished" much too early (and artists know nothing is ever finished, we just stop working on them...). My process was too short, and too neat. Because I wanted to get something posted I didn't take the chances that might delay finishing a work. Things that take long to dry. Things that get partially painted over. Things that you are not sure how to draw, so you have to do it a whole bunch of times. Things that didn't work. The messy inbetween, i.e. the thing I am in with The World spread right now. Social media is not friendly to the messy inbetween, and that's where so much of the good stuff is.
So I guess it's not such a terrible thing that it's taking me months to show you these spreads. I mean, after I took this photo, I went back and numbered the spreads, zero to 21, with ink, and number stickers, and images -- so it is already once again, different, and see, nothing is ever finished. I wrote on my World spread, "in my end is my beginning" (T.S. Eliot) because you know you get to play the Fool again, and start from zero all over. This time, in your little fool hobo pouch, you have all the things you've learned as you danced, stumbled, crawled, and danced again through the cards and life. And I learned that's it's okay to be slow, and not follow the crowd, and to listen to myself. My artistic practice, and my heart, is better for it. 
Gotta run -- my messy inbetween is waiting for me!